What are
dry recyclable materials ?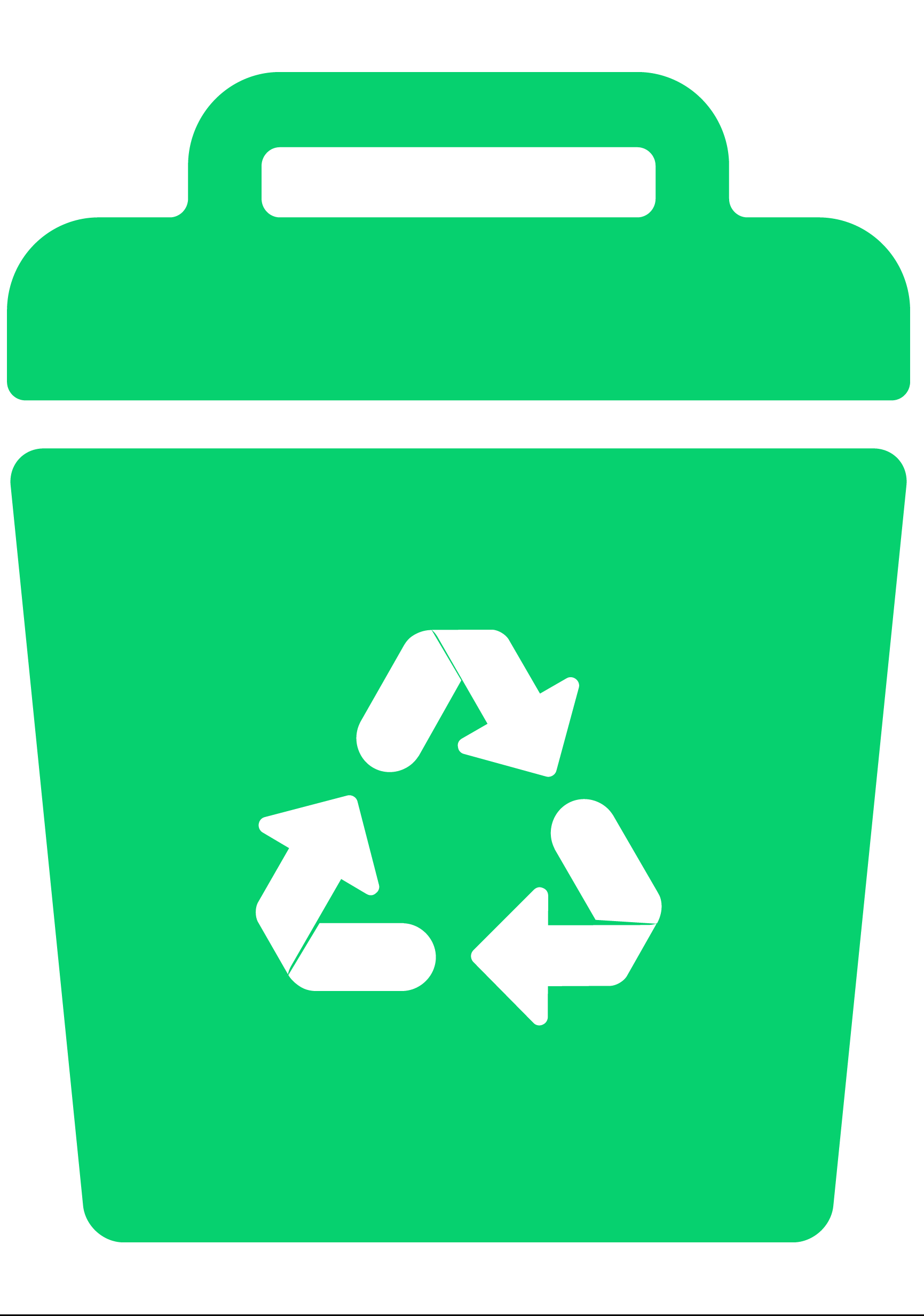 Dry recyclable materials comprise all of the waste that households have pre-sorted and deposited in the selective sorting bins or at the dedicated voluntary drop-off points. This recyclable waste consists of paper, cardboard, aluminium, metal packaging and the various types of plastic that compose our packaging, such as PET, PE/PP, HDPE, etc.
The waste in these yellow rubbish bins is collected separately from household waste and taken to a sorting centre. In order for this waste to be recycled, it must first be sorted to achieve a sufficient level of purity for it to be processed into a raw material.
The main operating principles of a Dry recyclable materials sorting centre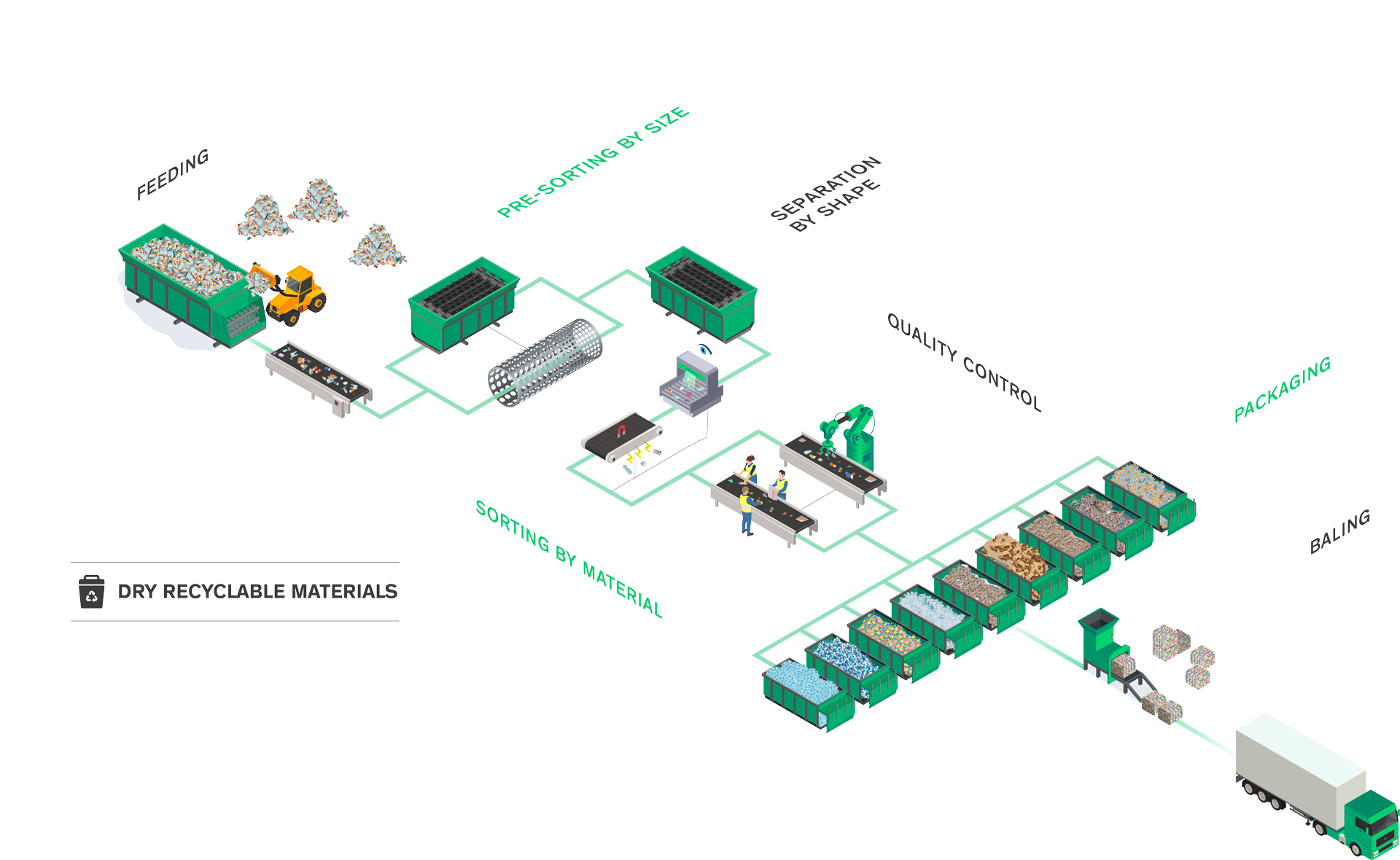 The waste unloaded by the collection trucks is fed into the line through a metering hopper that ensures a steady flow of waste to the rest of the line.
The waste is separated by size, using trommels or ballistic separators.
Small items, which are difficult to recycle and could be dangerous for the operators, are removed from the convey or belt. Very large items are processed separately.
Flat waste (such as paper and cardboard) is separated out from bulky items (such as bottles and plastic containers), using ballistic separators.
Iron and steel packages are separated out by magnetised systems called overbands; aluminium items are captured by eddy current separators
Optical sorting machines scan the products to identify and separate out the different types of plastic, paper and cardboard.
Each material is then scanned to remove the last sorting errors. This step is generally carried out by primarily manual inspection by quality controllers. In recent years, it has become possible to install AI-powered sorting robots to carry out part of this inspection.
This material is then compressed and packaged into "bales".
These bales are then sent to a processing facility that will convert these wastes into resources.
Rejects from the selective processing step can then be taken to a plant that converts them into solid recovered fuel' (SRF) or Refuse-derived fuel (RDF) and subsequently used to generate energy.
AKTID know-how
Through close to 30 years' experience in handling waste and commissioning the largest waste sorting centres in France, AKTID has acquired a unique level of expertise in creating and upgrading selective collection waste sorting centres. Our structured organisation, our experience and our know-how make AKTID the go-to partner for your selective-collection waste processing projects.
An AKTID dry recyclable materials sorting centre brings you:
High-level performance over the long term

Low renewal costs

Special attention paid to the plant operators' working conditions

Very easy operation and maintenance

Overall optimisation of our facilities' energy consumption

Guidance and support to bring the operating teams up to speed with the industrial plant
Close-up on: Ballistic separators
Ballistic separators perform the "core process" in next-generation waste sorting centres. They are used to separate a stream of mixed materials into three or four categories, based on the principle that, depending on their physical properties, materials react differently when they are moving.
The ballistic separator designed by AKTID delivers an excellent quality of separation and processes an additional 30% of throughput by leveraging:
Over 20m² of screening area

Variable, real-time adjustable speed of operation

Slats' with a large range of movement

Adjustable inclination during operation

Easily-adjustable screening grids
Close-up on: The Multisort® modular, ergonomic sorting belt
Aktid has patented a sorting belt that significantly improves working conditions for control cabin operators and offers excellent operational flexibility.
A central sorting lane enables each operator to sort a major material (e.g., recoverable plastics in a paper stream).
Thanks to the Multisort® sorting belt, the little collection containers often found in control cabins are a thing of the past.